Overcome Female Infertility -112- Types of Structure Problem In Conventional Treatment
As we mentioned in previous article, conventional medicine plays an important role in treating all kind of disease and most of the time is the first treatment for a couple who for what ever reason cam not conceive after 1 year of unprotected sexual intercourse or can not carry the pregnancy to full term. With the advance of medical technology, Some infertility are caused by structure problem and can be corrected through surgery. In this article, we will discuss types of female reproductive structure problem in conventional perspective.
I. Definition
Reproductive structure problem is defined as inability of an organ to perform it's normal function due to damage or abnormal appearance caused by scar, adhesion or tumour attaching to the organ. Normally, these types of problem can be corrected by surgery.
II. Types of female reproductive structure problem
1) Congenital uterine abnormalities
Congenital uterine abnormalities is a result of abnormal uterus and tube which are developed in the embryo stage.
a) Septate uterus
In the septate uterus, there is a wall, septum membrane dividing the top of the uterus. Since the uterus is divided, it has little room for the fetus to develop and grow, leading to miscarriage or premature birth.
Metroplasty is type of surgery normally used to correct a septate uterus. Through laparoscopic surgery, the septum that divides the uterus is removed, thereby reshaping the uterus to it's normal appearance, and allowing extra room for the fetus to growing.
b) Unicornuate uterus
Unicornuate uterus is a condition of which the uterus is one side and smaller than usual. It is possible for women with unicornuate uterus to get pregnant and give birth to a healthy baby. Most cases of unicornuate uterus are never diagnosed and only 1 in 500 women are born with this kind of abnormality.
c) Bicornuate uterus
Bicornuate uterus is a condition of which a woman is born with 2 separate uterine cavity, each of them is connected to fallopian separately.
Since a woman with bicornuate uterus still can get pregnant and give birth to a premature baby, many of them can bypass the lapraoscopic surgery. If the problem is serious then her doctor may suggest metroplasty which is one form of surgery helped to join the two uterine halves.
d) Didelphic uterus
An abnormal formation of the uterus during the embryo stage resulting in 2 cervix with 2 smaller uterus and sometime 2 vagina on top of the vagina canal. A woman with didelphic uterus may not need surgery because she can still get pregnant and give birth to a premature baby, it is advised that she should work closely with her doctor during pregnancy to watch for signs of pre-term labour or other risks to the baby.
2) Tubal damage or adhesion
Tube damage or adhesion is normally caused by fluid builded up in the fallopian tube or scar tissues thus, preventing the egg to enter the fallopian tube for fertilization.
These types of structure problem can be corrected through surgery. It is performed through a small incision through the navel by a laparoscopy or in the lower abdomen by a laparotomy.
a) Tubal reanastomosis
It helps to repair the tube damaged by scar tissue and reverse tubal ligation.
b) Salpingostomy
It is used when the end of fallopian tube is blocked up by fluid buildup.
c) Fimbrioplasty
the operation is used when the fringe end of fallopian is blocked.
3) Asherman's syndrome
Asherman's syndrome is a condition in which scar tissues join one part of the uterus wall to the another. In some case, it may completely covered the uterine cavity. It is caused by abortion, fibroid surgery or endometrial infection. Normally, your doctor will perform a surgery by hysteroscopy, that helps to remove adhesions or scar tissues within the uterine cavity.
4. Fibroids
a) Types of fibroids
Fibroids are smooth benign tumor composed of fibrous and muscular, same as the uterus which adhere to either the outer or inner uterine wall, including
i) Subserous fibroids
It grows in the outer wall of the uterus and causes the uterus to grow, sometimes to 7 months of pregnancy, leading to abnormal bloating, pain during sex and in the back.
ii) Submucosal fibroids
It grows inside the uterine cavity, leading to abnormal severe cramps.
iii) Intramural fibroids
It is grows inside the uterine wall either toward outside like subserous fibroids or toward inside like subnucosal fibroids
iv) Pedunculated fibroids
This type of fibroids attach to the uterus by a stalk, and sometimes they are mistaken as ovarian
tumors, causing pelvic cramping or pain during periods.
b) Types of surgery
Normally, if the fibroid does not interferes with the women ability to conceive, it will be left alone. Otherwise, your doctor may suggest some types of surgery, including
i) Myomectomy
Myomectomy is the medical operation used to remove only the fibroids. it normally is done through an incision in the lower abdomen by a laparoscopy.
ii) Crymyolysis
the procedure destroy the fibroid by using a probelike instrument to freeze the fibroids interior.
iii) Electromyolysis
The medical procedure destroy the fibroids via electrical current.
iv) Laser myolysis
Laser beams are directed into the core of the fibroids and destroy them.
v) Uterine artery embolization
The procedure is used to block the blood flow to the fibroids. Since fibroids require nutrients to grow, blocking the blood flow causes them to shrink.
vi) Hysteroscopic resection
In this procedure, medical instrument resectoscopy insert through vagina into the uterus, where the resectoscopy is used to shave off the fibroids from the uterine wall.
vii) Endometrial ablation or resection
The technique is used to destroy the uterine lining, thereby starving the fibroids to death.
viii) Supra-cervical hysterectomy
The surgery involve removing only pert of uterus containing the fibroids.

e) Ednometriosis
The causes of endometriosis is still unknown. It is caused by endometrial cell growing somewhere else instead of the endometrium. Normally, it does not travel far then the abdominal cavity. If endometrial implant and adhesion attached to the reproductive organs, it may causes blockage or interferes with normal function of reproductive system, including the ovaries, fallopian tube and uterus. If the endometrial implants and adhesion do not interfere with fertility and serve symptoms, many doctors may try to control them by medication, instead of surgery. If you would like more information about types of surgery, please refer to some previous articles.
For the best pregnancy self help program review, please visit
http://bestfertility.blogspot.com/
For series of Infertility Articles, please visit
http://fertility-infertility.blogspot.com
Frequently Asked Questions
QUESTION:
what is the chances of Pregnancy if female has fibroids in their uters?

ANSWER:
The chances of your getting pregnant with fibroids are the same as without them. I got pregnant in the first try after removing a 3yr IUD after 8yrs. I had 4 large fibroids and a cyst on my ovary but I was pregnant by my next periods date to start. The cyst got large to where they were talking about doing surgery and then it burst. I had not one issue with the fibroids for another 7yrs and then had to have a vag hyst. for bleeding. My son was born, a 35 week preemie that weighed 7 lbs and was 23″long….I knew the exact date I conceived, so he was just big and ran out of room inside me and was born to get the room he needed in the nursery. He's 16yrs old now and 6'4″ and 200 lbs…..my lil preemie! LOL

QUESTION:
What causes fibroids in the female reproductive organs?

ANSWER:
Also called: Uterine leiomyomata

Uterine fibroids are the most common non-cancerous tumors in women of childbearing age. Fibroids are made of muscle cells and other tissues that grow in and around the wall of the uterus, or womb. The cause of fibroids is unknown. Risk factors include being African-American or being overweight.

Many women with uterine fibroids have no symptoms. If you have symptoms, they may include

Heavy or painful periods or bleeding between periods
Feeling "full" in the lower abdomen
Urinating often
Pain during sex
Lower back pain
Reproductive problems, such as infertility, multiple miscarriages or early labor
Most women with fibroids can get pregnant naturally. For those who cannot, infertility treatments may help. Treatment for uterine fibroids includes medicines that can slow or stop their growth, or surgery. If you have no symptoms, you may not even need treatment.

QUESTION:
Female reproductive expert please!! Can you still have fibroids and ovarian cysts after menopause?
I haven't had a period in 6 years? Prior to my period ending I had ovarian cysts and fibroid tumors. I would have ultrasounds and they got smaller; then finally I had my menopause. I was led to believe that when my period stopped I wouldn't get them anymore. last year when I had gallbladder surgery they told me I still had them. Until today, though, I had really not had any pain. Today I had severe cramps and swelling, my back hurt, just like when I used to have my period.. I feel like I have the fibroids again. How can I have them if I am not reproducing anymore? Is this possible? Please help!

ANSWER:
If you are not taking hormones, the fibroids should shrink after menopause. Obviously, the cysts haven't.

If one of those cysts breaks, it can dump fluid into you abdomen that can be irritating.

The pain you are having may be totally unrelated to either your fibroids or your cysts. See a doctor ASAP.

QUESTION:
I've hearthat cyst and fibroids are female embryo growths that never formed .but logged themselves elsewhere ?
I need information on that

ANSWER:
That's simply not true.

QUESTION:
I'm a 28 year old female who has fibroids and wants to know if other find it's hard to get pregnant?
I've been trying for a year I just found out a mth ago I have fibroids from my doctor ….not sure where it is sitting but i find before i had my son it was easier to get pregnant now i feel like I'm childbearing… I'm very depressed about it. My son wants a sister…

ANSWER:
I am 17weeks pregnant and i have fibroids too
Don't worry it will happen when you least expect it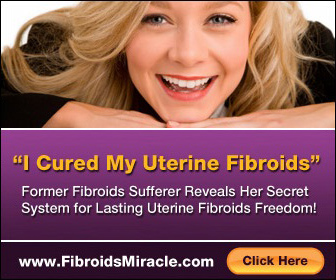 ---
---
Can Diet Help With Fibroids In The Uterus? What To Eat And Drink Fibroids in the uterus are very common and affect many women during childbearing years. This non-cancerous, solid tumor can grow in the womb. Many women ask, "can diet help with fibroids in the uterus?" and the answer is that it can, but […]